Value Stream Mapping helps you to detect your losses!
Purpose Value Stream Mapping
Lean Manufacturing streeft naar een verbetercultuur waarbij de processen permanent in vraag gesteld en geoptimaliseerd worden om beter te kunnen voldoen aan de klantenvraag. Een belangrijke stap hierbij is het herkennen van de 7 + 1 lean verliezen.

Met Value Stream Mapping (VSM) brengt u de materialen- en informatiestromen binnen uw bedrijf visueel in kaart, én worden de verliezen en verbeteropportuniteiten op eenvoudige wijze aan het licht gebracht.
Approach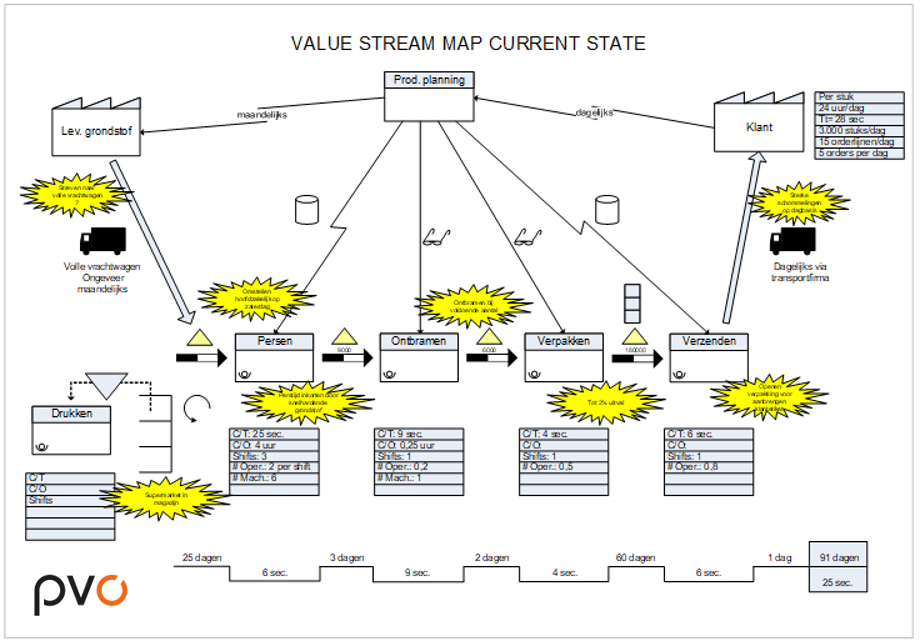 Value Stream Mapping omvat de volgende achtereenvolgende stappen:
- Opstellen current state VSM
Afbakenen waardestroom
Bepalen van het hoofdproces
In kaart brengen van het hoofdproces
Bepalen van cylustijden, toegevoegde waarde tijden en doorlooptijden

- Opstellen future state VSM
Bepalen van de takttijd
Elimineren van stappen zonder toegevoegde waarde
Toepassen van de lean principes: samenvoegen van stappen - pull – kanban - …
Cyclustijden in lijn brengen met de takttijd
In kaart brengen van het verbeterd proces

- Opstellen actieplan en uitvoeringsplanning
Benefits of VSM
Value Stream Mapping offers many benefits including:
Visualize all processes, more than one individual process;
Detecting losses and their causes;
By quantifying the process steps you gain insight into lead times, workloads, cost of the process, ...;
Mapping is a good presentation technique for continuous improvement teams;
The impact of the improvement proposals can be better estimated.
Used techniques
The technique that PVO uses to implement Value Stream Mapping is based on the "Learning to see" book by Mike Rother.