Increase your productivity with Lean Manufacturing
Goal Lean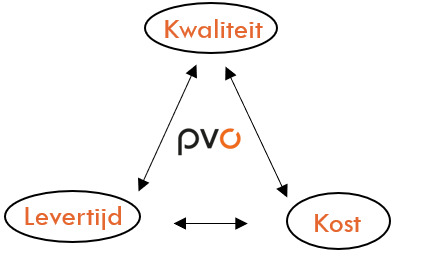 Lean Manufacturing is a business strategy aimed at organizing and improving your operational activities. This strategy is based on "Toyota Production System" (TPS) and ensures increased productivity and competitiveness!
Lean Manufacturing aims to carry out a process with the highest possible service level for the customer through the detection and elimination of losses. The highest possible service level means the right balance between quality, delivery time and costs.
Approach
The approach for Lean Manufacturing consists of 5 steps:
Determine the value for the customer
Identify the value stream and eliminate the steps that do not add a value
Create flow
Follow the pace of the customer
Strive for perfection
This pursuit of perfection is supported by numerous tools and techniques that can be seen as the building blocks of continuous improvement. 5S, OEE, SMED, One-Piece-Flow, Kanban, ... are just a few of these.

Disable the Lean losses

Within PVO, we use 7 + 1 losses.
Entering Lean
The Lean philosophy is fairly easy to explain, but not always easy to implement. The introduction of Lean is therefore usually step-by-step, with the wishes and requirements of the customer always central.
When implementing Lean Manufacturing, it is crucial that both management and employees are involved in the process and also speak the same language. A successful implementation leads to quality products and / or services, characterized by short delivery times and low costs.